Mehron
Special Effects Makeup - SynWax
Mehron SynWax is a synthetic wax that remains flexible, making it perfect for concealing eyebrows or creating realistic wounds.

Volume: 42 grams

See below for more info.
Product description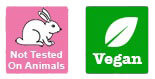 HOW TO USE
Apply Mehron SynWax directly to the skin. Blend the edges with a little bit of mineral oil. Blot off the oil and apply cream makeup. Seal the makeup with Mehron's Fixative "A". Remove SynWax by peeling off as much product as possible. Remove the remaining product with makeup remover followed by soap and water.
ABOUT MEHRON MAKEUP
Since their inception over 90 years ago, Mehron has been a leader in high-quality, high-value, professional makeup products. Dedicated to developing cosmetics that exceed expectations, the experienced Mehron team of chemists work in collaboration with renowned industry artists to create products that look amazing, feel fabulous, set trends, and perform under the most intense conditions.