Mehron
Special Effects Makeup - Stage Blood Bright
Mehron Stage Blood is fake blood developed for realistic and gory effects. Stage Blood is a safe liquid that is edible and easy to wash off with soap and water.

See below for more info.
Product description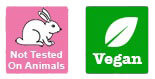 HOW TO USE
Apply Mehron Stage Blood directly to the skin. Stage Blood will not dry, so the blood will continue to drip. Ideal for blood capsules and mouth application. (Product may stain. Pre-testing is recommended). Remove with soap and water.
ABOUT MEHRON MAKEUP
Since their inception over 90 years ago, Mehron has been a leader in high-quality, high-value, professional makeup products. Dedicated to developing cosmetics that exceed expectations, the experienced Mehron team of chemists work in collaboration with renowned industry artists to create products that look amazing, feel fabulous, set trends, and perform under the most intense conditions.