Mehron
Special Effects Makeup - Fixative A Sealer with Brush
Fixative A from Mehron is especially formulated to prepare latex Bald Caps and other prosthetic appliances made from latex, SynWax or Modelling/Putty Wax to accept standard cream makeup.

See below for more info.
Product description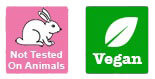 HOW TO USE
Apply the Mehron Fixative A Sealer with a brush as a protective sealer over Modeling Wax, Putty/Wax and SynWax constructions before applying makeup. Allow about 2 to 3 minutes to dry. Remove with Mehron Spirit Gum Remover followed by soap and water. Extra tip: Mehron's Fixative "A" can also be used to seal intricate water based paint designs, making them waterproof so they appear like tattoos.
ABOUT MEHRON MAKEUP
Since their inception over 90 years ago, Mehron has been a leader in high-quality, high-value, professional makeup products. Dedicated to developing cosmetics that exceed expectations, the experienced Mehron team of chemists work in collaboration with renowned industry artists to create products that look amazing, feel fabulous, set trends, and perform under the most intense conditions.